The Hotel AlpenSchlössl as your starting point
Lace up your walking boots, grab the walking poles and make your way onwards and upwards, informed by the walking tips from our staff. We are happy to share information about some of our favourite places, which will become places with unforgettable holiday memories! The Big Pölven is directly behind our hotel. A circular hiking tour takes you over the Lengauer Kapelle and up a simple climbing garden up to the summit. As a reward a breath-taking view over the Inn valley awaits you.

For those not wanting to climb, it is possible to walk around the impressive mountains of the Kitbüheler Alps. Take yourself off to the Hintersteiner lake, climb the Hohe Salve, walk to Brandstadl. The mountains surrounding the Hotel AlpenSchlössl are accessible. There are many recommendable routes combining a cable car journey. The Kaiserjet is a free walking bus for the Wilder Kaiser region taking you directly to the cable car station in Söll.
Walking routes
From an easy walk around the village to an ambitious tour over several days, it is all possible in the Wilder Kaiser region. The Sunnseit path or the panorama path are ideal to start off with. A hike to the Ellmauer Tor, a hike over the Brentenjoch to the Hintersteiner lake or the circular walk to the Grutten hut are more challenging. The Kaiserjet takes our guests to the appropriate starting point. We are happy to offer hiking advice on the reception..

WALKING PATHS

Up in the cable car
Sometimes you want to experience the clear mountain air, but don't feel like taking the long walk up to find it…just as well then, that the Wilder Kaiser region has so many lifts and cable cars. You will be whisked up to the highest peaks, all without getting out of breath. Although the scenery may just take your breath away. So beautiful! The view is a reward for all mountaineers, regardless of how long (or short) the journey was.

UP IN THE GONDOLA
Trail running & Jogging
Running over sticks and stones is well loved. More and more often it is trail runners as opposed to hikers that you come across, that seem to effortlessly stride out and up at high altitude. But cross country running is not only recommended in the mountains. The valley also offers a variety of routes for passionate runners. From long-distance to a crisp sprint, everything is possible.

TRAIL RUNNING & JOGGING

Autumn hiking
When the landscape turns golden due to withering leaves, autumn has arrived. But the changing season is no reason for sadness, just the opposite: Almost no other season offers as much beautiful weather as autumn. The air is clear and cool. The golden autumn rays shine across the landscape. The best time to take amazing photos. The paths and routes around the Wilden Kaiser are not only possible in summer, but also on autumn days are highly recommended. Most of the routes are secure enough even when it is wet. The climbing routes and gardens should only be attempted on fine weather days..

AUTUMN HIKING
Tours & Routes
HIKING HOTEL in Söll
Walking and Hiking in Austria in the Kitzbüheler Alpen
Plan Your Trip - Get ready for variety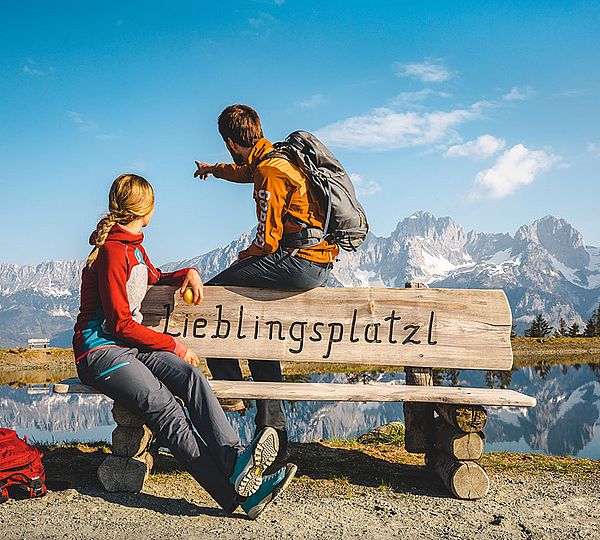 Package deal for 4 or 7 nights
4 or 7 nights hiking holidays incl. summer card